President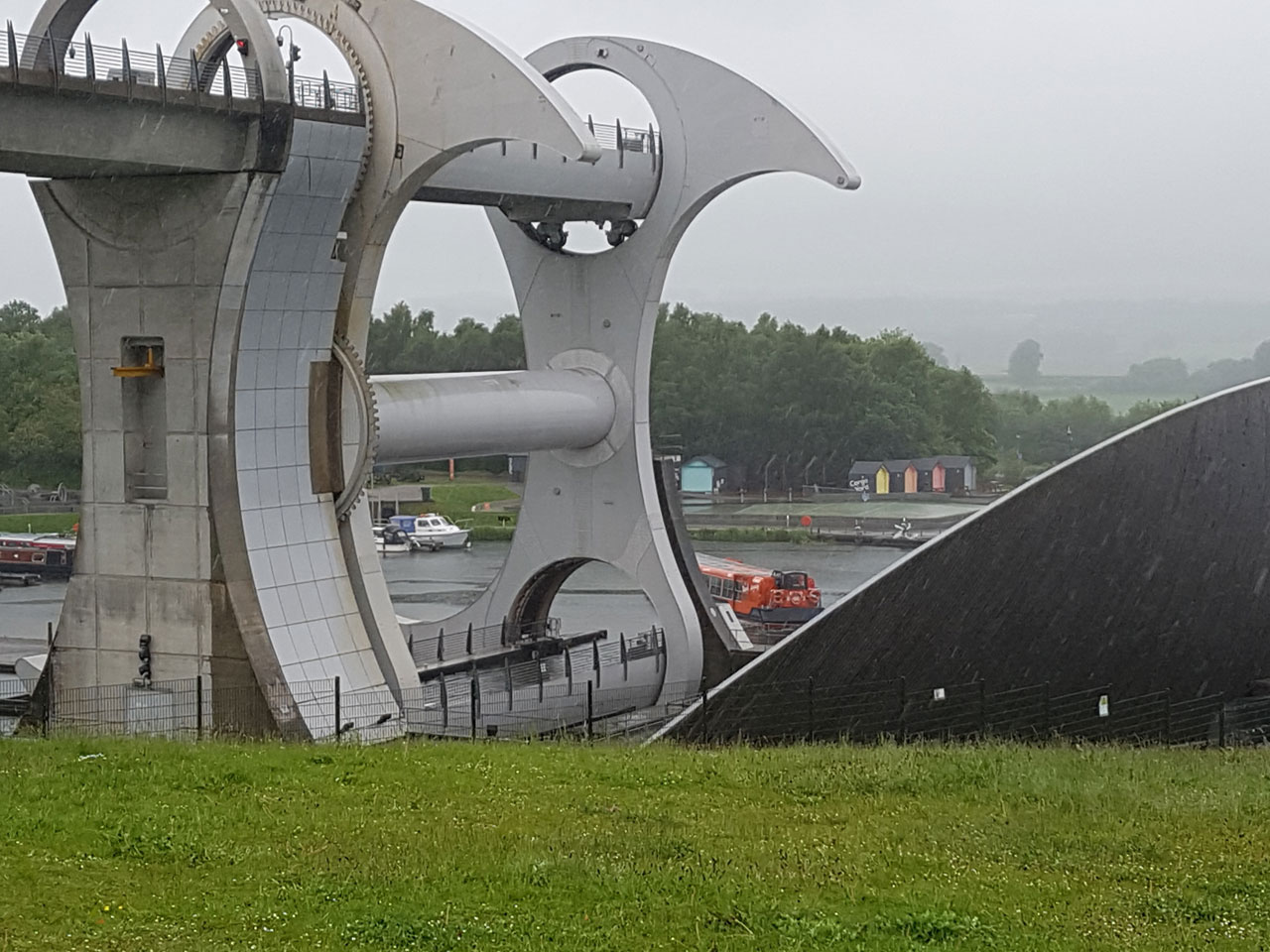 I'm sure you all recognise the Falkirk Wheel on a lovely Scottish evening. This is what I was doing in May 2019. The wheel itself is not exactly industrial history yet, or even in South Yorkshire, but I liked the picture. One day it might be possible to go somewhere interesting again and have a new picture – not that South Yorkshire isn't interesting.
We have been gradually returning to having lectures in person at Kelham Island Museum and the remaining 2 events for the 2021/22 "season" will be Robin Fielder on Harry Brearley on 25th April and Milica Rajic on the Albert Works, Cambridge Street on 16th May. Both will be in person.
On 28th May there will be the walk around Wadsley Common which had to be postponed last year. That will be from 10am and will be led by Alex Sotheran.
The Society remains actively involved in the Local Heritage Listing project being run through the South Yorkshire Archaeology Service. The project objective is to provide a database of all the sites in South Yorkshire which are considered important to heritage. Many sites are already well known or protected and the hope is that groups and members of the public will be able to nominate others for consideration. A website is now open.
There is a further involvement in another project based around Sheffield churchyards and cemeteries. One particular theme from our point of view would be to know the graves of famous industrialists; for example, Mark Firth in the General Cemetery.
Our publications have been selling well over the past year, usually through people noticing them on the website. Future publications are in hand and 2 are not very far away….. possibly even this year !
Wortley Top Forge will be open as usual on Sundays during the summer and there will be the usual Model Railway Engineers Open Day at the beginning of September and special Heritage Open Days.There is a link on our links page to the separate Top Forge website which has up to date information. Wortley is run by volunteers and we are always on the lookout for others.
We are still trying to find a more permanent solution to the problem of vegetation overwhelming the remains of our cementation furnace at Bower Spring. There was a clean up last November which succeeded in making the place look tidy for a while but it really needs doing every six months. Anyone who fancies hacking at brambles and Buddleia can contact the President. It is a listed monument, so there are limits, but guidance will be available. One downside of the vegetation clearance is that it reveals the graffiti.
And now for the usual appeal for anyone who fancies being more active on the committee or even in support of the committee. In the next year we would welcome more help with looking after the membership records, and both the treasurer and events organiser would welcome being able to pass on their roles to someone else. Or, if you fancy something more academic, you could be editor.
It is also probably still obvious that the committee are sometimes struggling to keep on top of electronic communications like this website. (None of us are getting any younger). If there is anyone out there who has some skills in electronic communications, once again please get in touch. You don't need to know how to write newsletters or give lectures, you just need to be competent on the technical side.
And finally the usual reminder:
The subscription year of the Society runs from 1st May to 30th April. I am advised by the membership secretary and the treasurer that we have had quite a shortfall in subscriptions for 2020/21. I hope this is just a cash flow matter and you will be catching up once it is possible to meet in person at events again. Of course we always appreciate electronic payments, particularly a standing order on 1st May. Subscription rates, bank and contact details can be found on the membership and contact pages of this site.
Tony Ball : President